Alexis Solis DVM, Owner
Dr. Alexis Solis, a Texas native, received her undergraduate degree from Texas Tech University before receiving her doctorate from St. George's University School of Veterinary Medicine in 2014. She completed her clinical rotations at Louisiana State University before continuing with a surgical and emergency medicine internship at Palm Beach Veterinary Specialist. She then joined the San Antonio Blue Pearl Veterinary Specialist team in 2015 as an associate Emergency and Critical care Veterinarian. During that time she also became a relief veterinarian in both general practice and emergency clinics for the state of Texas. In 2017 Dr. Solis relocated to Sugar Land.
Dr. Solis is an active member of The American Veterinary Medical Association and the Veterinary Emergency and Critical Care Society. Her interest include soft tissue surgery and critical care.
Dr. Solis is an advanced scuba diver and enjoys outdoor activities, traveling, and cooking. She is often seen with her 3 dogs, Brooklyn, Marley, and Professor Einstein the Frenchie.
Manuel Sanchez DVM, Owner
Dr. Manny Sanchez is a 1997 graduate of Texas A&M's College of Veterinary Medicine. Dr. Sanchez completed his undergraduate studies in Biomedical Science at Texas A&M, and is a member of the American Veterinary Medical Association, Texas Veterinary Medical Association and the Society for Theriogenology.
Dr. Sanchez, his wife Tammy and their twin boys, Tristan and Tyler, share their home with 7 dogs, 3 cats and 2 hermit crabs.
In his spare time Dr. Sanchez volunteers with Sienna Cub Scout pack 1401, serves on the executive board of K9s4Cops and volunteers for numerous rescue organizations. His passions include Texas A&M football, and all things outdoors, especially fishing.
Victoria Zuniga
Veterinary Technician
Victoria recently moved back to Houston, after living in the Rio Grande Valley for the last 13 years. Victoria is an experienced emergency veterinary technician and has a vast knowledge in triaging ER/Critical care cases, CPR, and assisting in emergency surgical cases. Victoria is a alumni of Texas A&M Kingsville where she received her Bachelors of Science in Animal Science with a minor in Organic Chemistry. She enjoys meat science and is a certified Artificial Insemination technician in Beef cattle. She is currently finishing her Masters in Business with a concentration in health care administration at the University of Texas – Rio Grande Valley. Her goal is to become an healthcare director and help her community to provide quality health care for all animals and clients She has three babies, a loving Pitt Bull, a chihuahua, and a sassy little kitty named June. On her days off you can find her cooking with her family and spending time with her dogs outside!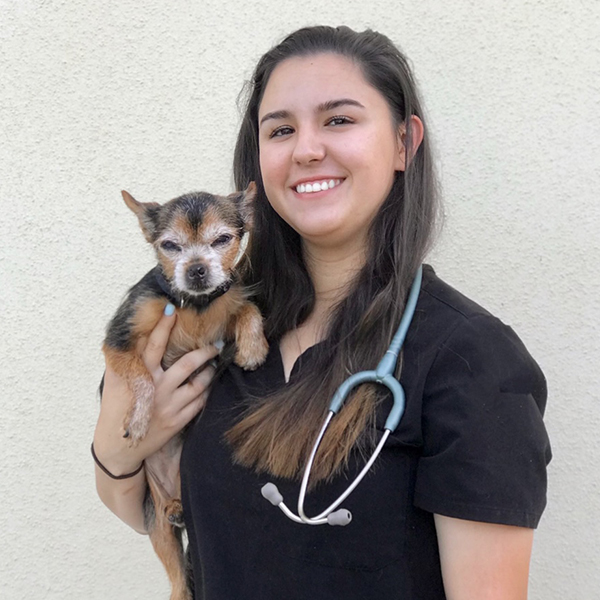 Lauren Saint
Veterinary Technician
Lauren was born and raised in Houston Texas and is currently an Animal Science and Biochemistry major at West Texas A&M University. She plans to attend veterinary school at the end of her undergraduate studies. She has been a veterinary technician for two years and we are lucky to have her work with us when she returns home during her academic breaks. She enjoys learning and strengthening her veterinary knowledge. Lauren is mom to two fur babies, Tink & River, and has a passion for horses. She likes being outdoors and spends a lot of time at the park with her dogs or on a trail ride with her horse, Sangria.
Jacque Woodard
Veterinary Technician/Kennel Attendant
Jacque has admired animals for as long as he can remember. He enjoys working with them and keeping them comfortable. He is a fine arts major with hopes of becoming a photographer. During his free time Jacque can be found playing video games or checking out youtube videos. Jacque is a dedicated worker with a genuine sense of humor.
Janet Blas
Veterinary Technician
Janet, is a southeast Houston native who joined our team in the fall of 2020. She started her journey in veterinary medicine over 8 years ago! Janet has vast knowledge in general practice and spent her recent years as a manager ensuring great customer service for her previous clinic. She has an interest in learning more about general surgery and critical care medicine. Janet enjoys exploratory surgeries and wound care. She likes spending time outdoors and with her family and friends. Janet has 2 dogs; a male pitbull mix and a female Shih Tzu mix.
She loves both of her fur babies and is looking forward to helping our clients with theirs.
Destiny Reyes
Receptionist / Veterinary Assistant
Destiny Reyes, a Houston native is one of our full time receptionists. Before joining our team Destiny worked at a large veterinary hospital working the night shift. Destiny is studying to be a licensed veterinary technician and has always had a passion for veterinary medicine and animals. Currently she is cross training to join the Pet Clinic on Bellfort's veterinary technician team. When she is not working or studying she spends her free time with her husband and fur babies, August and Xena, both of which are spoiled rotten. Destiny also likes to spend her time vacationing and traveling with her husband and hopes once the pandemic is over they can continue their family traditions.
Rebekah Garcia
Veterinary Receptionist / Accounts Manager
Rebekah was born and raised in McAllen Tx. She worked at a 24 hour emergency pet hospital in McAllen TX for the past 2 years. She is a mother to two fur babies, a 12 year old Siamese cat named Chocoflan and a 5 year old Siberian husky named Scarlett. Rebekah is working on her application for CBP (us customs and border protection) to follow in her fathers foots steps. She plans on becoming a part of the K9 unit while working for CBP due to her love for dogs. In her spare time Rebekah enjoys traveling, new restaurants, trying out new things, and playing video games.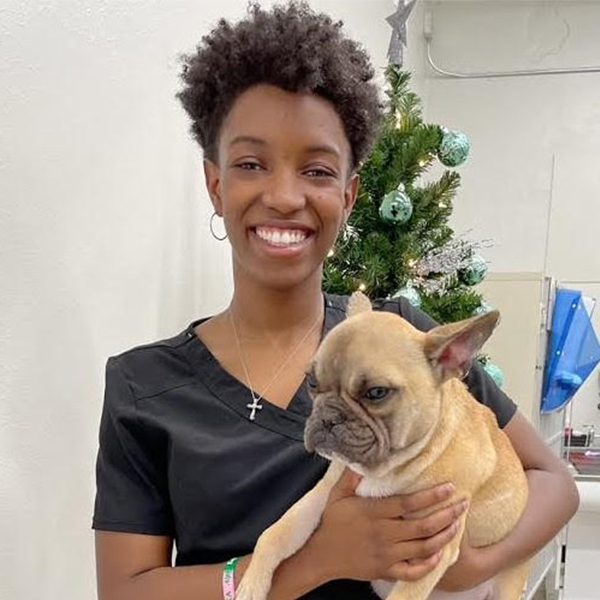 Ryen Greer
Veterinary Student
Ryen is currently an Animal and Dairy Science Major at Mississippi State University where she is an active member of many organizations such as: the Pre-Vet Club, the Oktibbeha County Humane Society, The Famous Maroon Band, Alpha Kappa Alpha Sorority, Inc. and NAACP. She volunteers at the clinic to gain veterinary techniques and knowledge in order to attend veterinary school at the end of her undergraduate studies. Ryen's favorite part of volunteering is that she gets to learn more about the profession while also interacting with clients and their pets.
Meyer Wilson
Veterinary Student
Come meet Meyer Wilson, born and raised in Houston, Texas, specifically Missouri City. She recently graduated in December from Texas Tech University with her B.S. in Animal Science, and Minor in Chemistry and Psychology. While in college Meyer adopted her little frenchie named Klaus (from vampire diaries) and he has been the best addition to her life! In her spare time she loves to binge watch TV series and movies. Some of Meyer's favorites are Rick and Morty, Bobs Burgers and Keeping up with the Kardashians. She is a scorpio with a love for animals as well as fashion and she is loving it here at Pet Clinic on Belfort!